GECKO will amaze all lovers of crawlers and expedition cars. The detailed design of this car legend provides an unforgettable driving experience along with the suspension system combined with precise steering. All of this is, furthermore, enhanced by the unique feeling of the hand-built construction.
Gecko can be used indoors and outdoors. The model goes slowly, but it has a high torque, which you will undoubtedly need in the field. Thanks to these features, it can be enjoyed by children as well as adults.
Quick and easy repair
In case any part breaks - or becomes excessively worn out, it's no problem to get the damaged part reprinted at any given time and fix your model.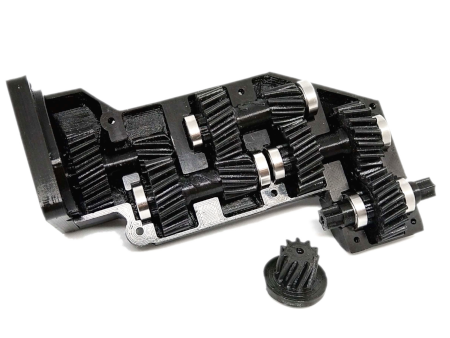 3D printed gearbox
The car includes 3D printed transmission with a 1:20 gear ratio for maximum torque, chassis, and axles with locked differentials.
Many details
The model is developed to the last detail inside and out. The focus is placed on a simple construction with maximum functionality.
Chassis
With GECKO, you can enjoy driving in all conditions. You can ride it on asphalt, but it feels much better on gravel, mud or sand. Large soft tires grab perfectly to the surface and allow you to overcome even the most challenging obstacles with little effort. With a 4x4 driveline and permanently locked differentials, you can reach the steepest slopes and meet all the challenges you encounter along the way. A great advantage is also the independent axles with four-point suspension links, which have excellent handling in the field. Moreover, a low centre of gravity and good balance increases stability.
Ready for full LED lighting
Bad weather or darkness will not stop you! GECKO is ready for full LED lighting, including headlights and turn signals .
Basic parameters
Prusa mini compatible!
Detailed interior
4x4 driveline with locked differentials
1:10 scale
Ready for full LED lighting
Final 1:40 gear ratio for maximum torque
Hood, doors and trunk can be manually opened
Oil-filled shocks
Soft tires
200+ 3D printed parts
Width: ~251 mm
Height: ~230 mm
Length: ~588 mm
Max speed: ~12 km/h on 3S LiPo
Filament weight: ~3 kg
Step-by-step User Guide
The user guide includes - very detailed instruction where we describe how to build the model step by step. Since the construction is so easy, anyone can assemble it and have fun while doing it. If you are - unfamiliar with any step from the instructions, do not hesitate to contact us at hello@printfully3d.com. We will be happy to help you with the construction.
Everything's ready
The (zip) file you receive contains both pre-prepared printing plates and stl files with individual models. You don't need to rotate parts or create supports. Everything is already included in the prepared models, so printing is as user-friendly as possible.
What you will get?
Stl car models
Construction tools and templates for window cutting
Detailed construction instructions
List of non-printable components
Free lifetime model updates
Online support
How is the purchase made?
Payment is possible only through the Barion payment gateway
After the payment, your chosen models will be immediately available to you and can be directly downloaded